How is Research linked to Innovation? The #PhDHub challenge
The future of Europe is connected to its capacity to innovate, to drive incremental to disruptive change, to positively impact society and its people. The link between innovation and research is natural as research is an intrinsic aspect of the idea development process and brings the appropriate knowledge-based support to nurture and develop new ideas, systems and products.
The European University Foundation and its partners work closely together to valorising research outputs. The PhD Hub project is about connecting research and innovation actors, enabling Europe's innovation power and offering the opportunity to all European knowledge workers to drive change in society.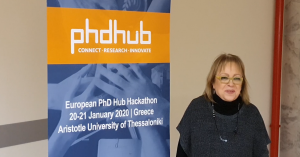 The PhD Hub Hack: Innovative solution to real-life problems
The #PhDHubHack is an initiative co-piloted by an ambitious alliance of partners from the academic and industrial sectors. Their joint involvement in the design of the event and co-creation of the challenge is key to developing relevant solutions and responding to real-life challenges. Last January in Thessaloniki, brilliant PhD candidates from across our European universities volunteered to work on the highly-relevant challenge of "tourism for sustainable development".
Watch how PhD candidates and their interdisciplinary teams have managed to tackle this challenge and bring together research and innovation: